February 2, 2018
5 REASONS TO BLOG (EVEN IF NO ONE IS READING)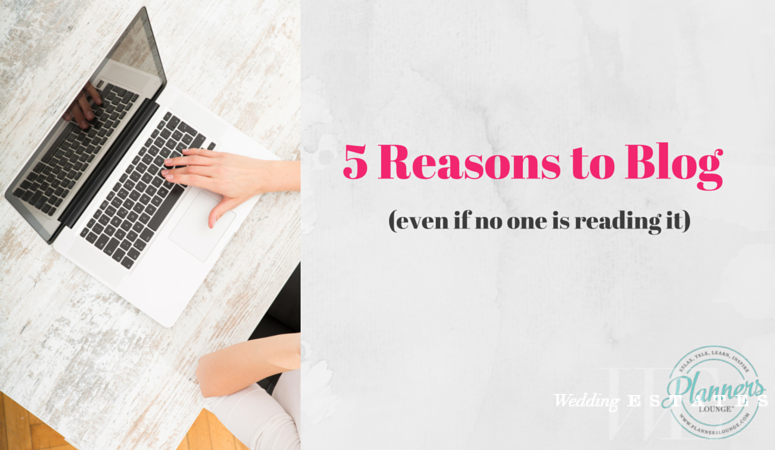 ---
As a wedding planner, I often feel overwhelmed with all of the tasks on my to-do list. I am juggling my client's needs, my business needs and the needs of my family. It is very easy to let blogging fall through the cracks. Let's face it, blogging is time-consuming and it can take a long time to see results from your efforts.
So why should you make that time? Here are the 5 biggest benefits I have seen to maintaining my blog, even when I do not feel like I have the time:
1) Stand Out From the Competition
Wedding planning is highly competitive. Anyone can print out business cards and throw up a website saying they are a planner. It can be difficult to convince potential clients that your services are worth the money you are charging when XYZ Planning Company will do the same job (or so they say) for 25% of your costs. A blog allows you to show off your work, share your expertise and above all, demonstrate why you are worth every penny.
2) Searchable Content
Your blog content can work for you LONG after the post goes up. Say you post a budget guide for planning your wedding, 6 months from now a couple can be searching for budget information and there you are in the search engine results.
3) Search Engine Results
Search engines prefer websites with fresh content. Hubspot research shows that sites with blogs get 55% more traffic than sites without blogs, even if their blog has few readers. Planner's Lounge recently shared more about search engine optimization for wedding planners with super helpful tips and advice.
4) Constant Contact with Clients
You probably do not have the time to constantly check in with your clients. A blog provides a constant stream of news and information for current and potential wedding planning clients. You can also re-purpose blog posts into newsletter content for those clients who may not follow your blog.
5) Unexpected Opportunities
Brides are not the only people searching for wedding information. I have received inquiries from reporters about my opinion on wedding trends in my area based on my blog. You never know who will stumble onto your blog and what door they may open.
Even if you do not have a huge readership base right now, keep in mind that it takes time. The more you post to your blog, the more likely brides will find you and your content. So make the time to write and post to your blog, I promise you will not regret it!
By : Carabella