January 25, 2018
13 New Wedding Trends to Watch for in 2018, According to Planners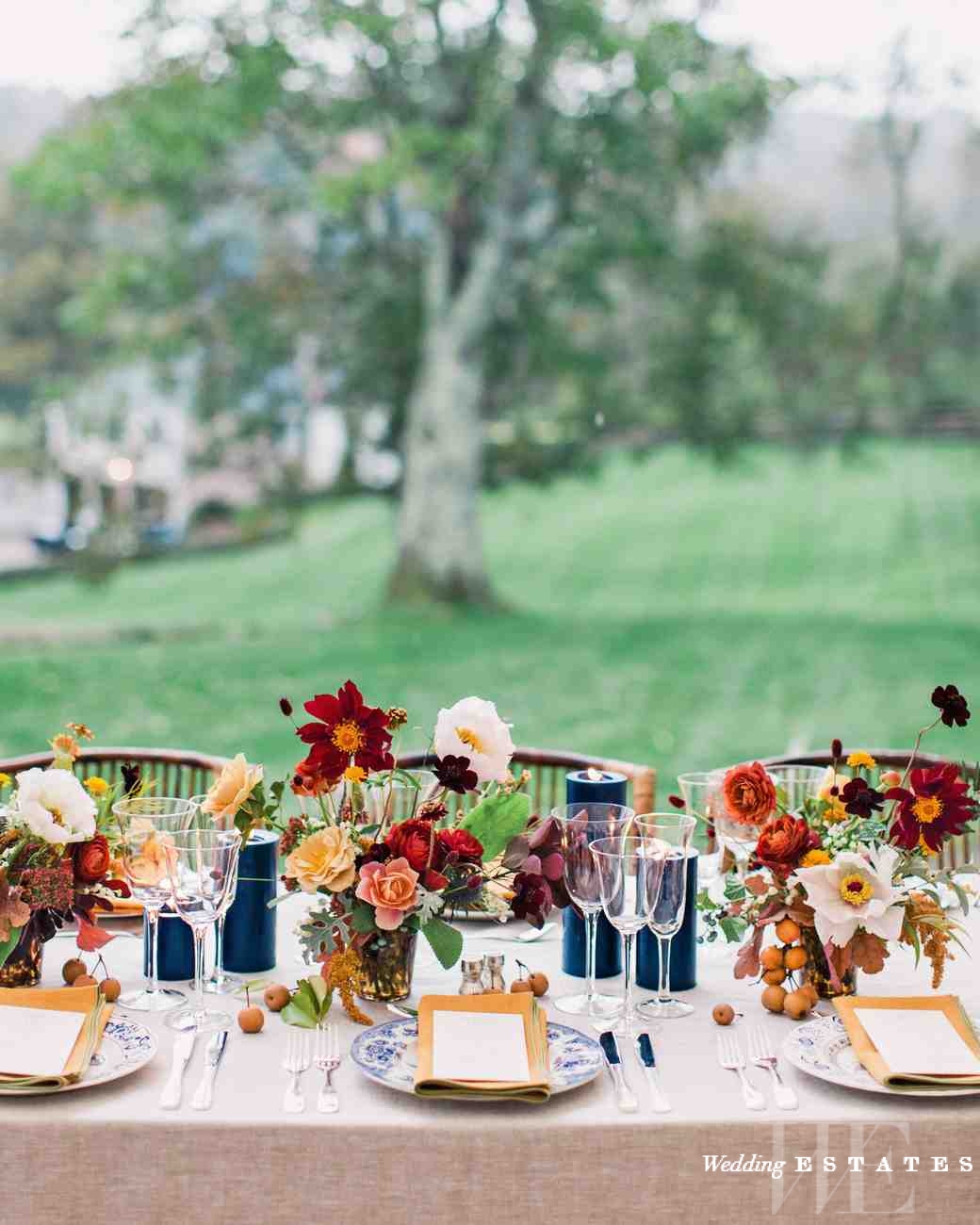 ---
If you're planning a wedding in 2018, you're in luck. While classic, timeless touches will never go out of style, up and coming trends are definitely worth your consideration. The reason? These contemporary details are coming straight from the top. We tapped elite event planners for their insight into which trends will rule the 2018 wedding season, and when they talk, we listen.
Based on what they've shared with us, there's so much to look forward to. From dramatic marble dance floors to laser-cut linens, unique texture will be a big element of future celebrations. Also noteworthy? Unexpected uses (and types!) of florals. Expect to see lush dogwood arrangements, living botanical bars, and potted plants on ceremony aisles and everywhere at receptions. Another heads up: Color is back in a big way. Moody and richly pigmented flowers and colorful candle centerpieces will be table décor of choice in the new year. And if you were on the fence about having an outdoor wedding, go with your gut. More and more brides are choosing indoor venues—think industrial lofts, museums, and sheltered rooftops—over the garden, beach, or woods.
The best part? These trends are perfect for every type of wedding, from traditional fêtes to more casual celebrations. As you start planning, feel free to pick and choose your favorite ideas from this fresh and inspired list. Trust us, you'll have no problem selecting a favorite trend or two. We don't want to give away all the fun, so we'll let our go-to event planners take it from here. Click through to discover the future's biggest and brightest wedding trends.
-By Sarah Schreiber of Martha Stewart Weddings
Associate Digital Editor
According to Charleston-based planner Calder Clark, custom "living" bars will be hot next year. "Freshly cut foliage fronted with a laser-cut painted wood veneer or stained latticework covered in climbing clematis are just a few snap-worthy ways of transforming the bar experience," she explained.
The inimitable Ginny Au plans on transforming aisles into garden beds in 2018. "What better way to pay homage to the quintessential English garden than using potted plants in your ceremony décor?" she said. "The pots themselves can be wrapped in silk fabrics to hide the pot and create a harmonious decor that blends with the natural environment."
An easy way to make a destination wedding feel entirely new? "Embrace the local culture," said Lynn Easton, the planner behind Easton Events. "Exotic destinations for wedding celebrations will continue to trend in 2018​,​ especially in locations where you can get off the grid." The best part of these unique places are the local traditions and customs—like the Montenegro guitar procession, seen here—which makes incorporating them a must-try in 2018.
In recent years, we've seen brides with huge bridal parties. The largest one in 2017 tallied up to thirteen 'maids! But Kara Delay of Love This Day Events has predicted that brides will choose smaller groups—made up of a single maid of honor or just one or two bridesmaids—in 2018.
While nothing could ever replace a reception, more brides will throw their resources into after parties next year, said Lauren Fremont of Loli Events. "The emphasis will be on the late-night portion of the wedding," she explained. "The level of thought that goes into 'the party after the party' will grow in 2018. Whether that means adding a specialty late-night food option, changing into a fun jumpsuit or lighter dress, or moving to an entirely new location to keep guests on their toes, there are many fun ways to keep the party going!"
2017 might have been the year of the outdoor wedding, but JZ Events founder Jennifer Zabinski believes that couples will reclaim indoor spaces in the future. The types of venues at the top of these couple's lists, however, aren't your average banquet hall. "Industrial, loft-style spaces" and "rooftops or museums" will be venues of choice in 2018, she explained. With high ceilings and open space, they're just as airy as the great outdoors.
When we asked event planner and designer Anna Lucia what we could expect from the 2018 floral scene, she summed it up in two words: dark and moody. "The big trend for 2018 will be darker, detailed, and textured florals. We've been in a beautiful lull of soft, lush, flowers with lots of greenery, but dark colors are going to be making an appearance in 2018. It's going to be all about the drama!" She also gave us one hue to watch: purple. "We're forecasting color palettes to take a turn towards shades of purples, including wine, lilac, lavender, and mauve."
Planners and brides are "taking cues from the runway" for linen inspiration, said Julie Savage Parekh of Strawberry Milk Events. "We'll see more laser-cut, illusion reception details in white and neutral tones," she explained. "Think lots of textured linens." Case in point? This laser-cut overlay from one of Parekh's recent projects, which brought an expected layer to a cream tablecloth.
With the reemergence of classic mid-century design, it's no surprise that lucite and other see-through mediums are about to have a major wedding moment. According to Allison Jackson of Pineapple Productions, "couples are opting for the modern, architectural, and clean design translucence offers. Clear tents, venues surrounded by floor to ceiling windows, glass tables, and lucite invitations and place cards are all examples of the see-through details to come."
"Texture will reign supreme in 2018," said Calder Clark—even on the ground! "Our latest favorite is deploying Calacatta marble for a jaw-dropping dance floor," she explained. Just be sure to take an aerial photo to capture your guests twirling on the swirled marble.
Bridal bouquets have been lush and wild for some time now, but Ginny Au says 2018 will be all about one "overgrown" variety in particular: dogwood. "Bridal bouquets made of only dogwood blooms will make a huge appearance in the spring," she said.
There's no better way to add vintage romance to your big day than with statement candelabras. But Los Angeles event planner Mindy Weiss wants to give them an upgrade in 2018. "Instead of the standard white and ivory candles, couples are looking to add a splash of color," she said. "Colored candles on tables capes or peppered throughout the event space are an easy way to add something unexpected to your décor."
For Georgia planner Jacin Fitzgerald, place cards are about to take a creative (and delicious!) turn. "While paper will always have a place in weddings and events, there is an ongoing trend to think outside the box," she said. "The new year will weave creative place cards into the event's aesthetic. They'll be edible or made with unexpected mediums, such as plants or vases." The macaron place card seen left—kept fresh by the sweetest mini-cloche—is the perfect example.
By : Carabella