November 18, 2014
Iconic Bride: Solange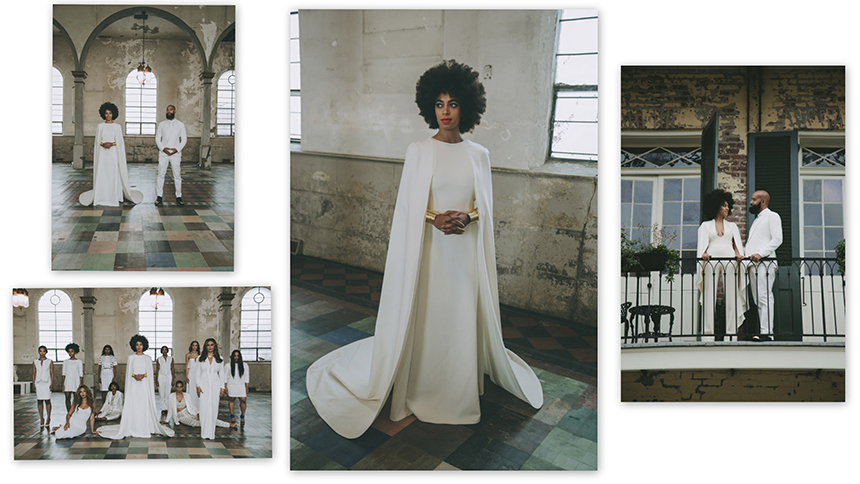 ---
Just when everyone was getting over Kim Kardashian "breaking the internet", Iconic Bride: Solange Knowles swooped in like a fashionable hawk; stealing the spotlight with her beautifully understated yet incredibly forward-thinking wedding look from her nuptials to video director Alan Ferguson which took place this past weekend.  Vogue.com quietly dropped official wedding portraits by Rog Walker. As reported by Vogue, the celebration took place in the Bywater district of New Orleans, a city that holds a special place in the heart of the Knowles family (Mama Tina Knowles is originally from Louisiana). So, what did Solange get right? Along with my equally pop-culture and fashion fanatical colleague, Alexis, I break it down for you:
Simple, yet dramatic
Over the years, we have come to expect the unexpected from the lesser known Knowles as she has carved out a more avant-garde niche for herself in the fashion world. She has truly grown into her own taste as her wedding dress, designed by good friend Humberto Leon (creative director of Kenzo), makes a dramatic statement without it looking like she is  trying too hard. The floor-length cape is reminiscent of a traditional bridal train as it drapes past the dress and strong shoulders create a bold line. Gold cuffs lend a certain "ancient goddess" quality. The choice to keep jewelry minimal was a good one as this dress needed a visual anchor, a touch of glam but… not much else. Her hair, loose and worn natural, softens the silhouette. A bold red lip with otherwise subdued make-up gives the perfect color pop.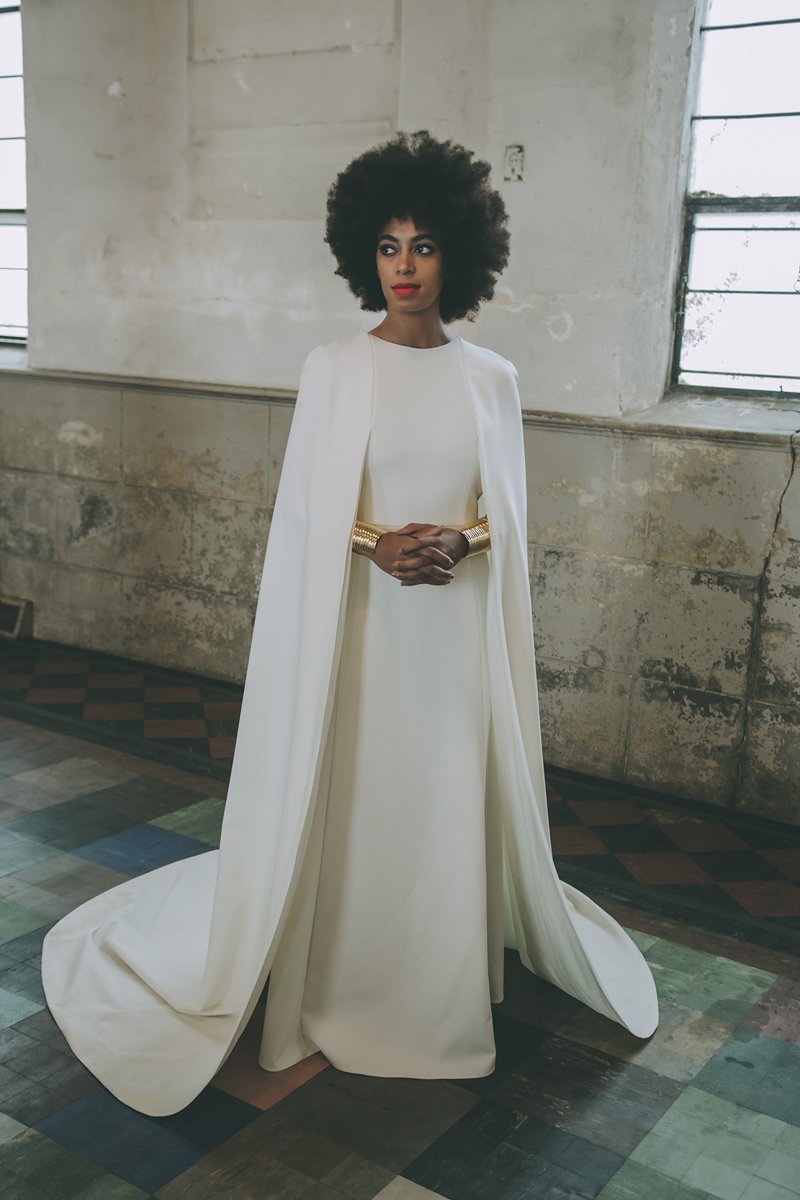 Traditional elements turned upside down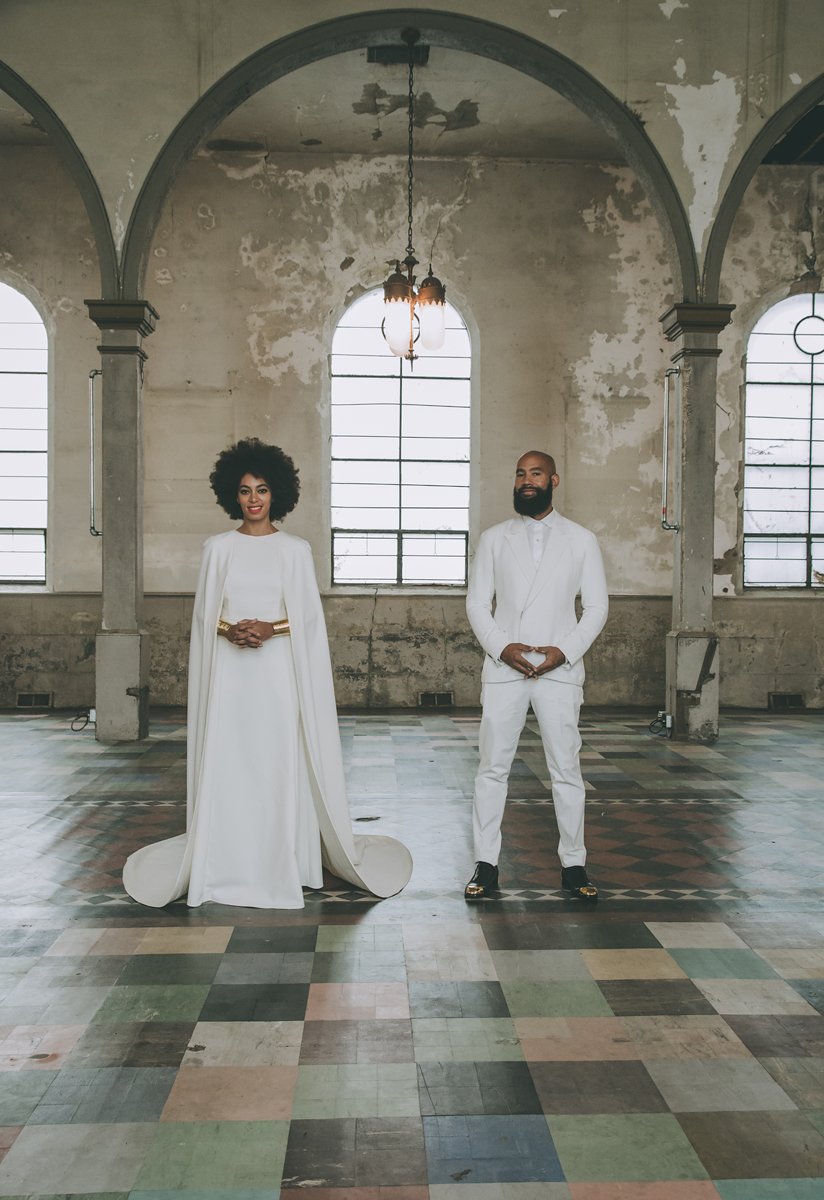 Being an avant-garde bride doesn't mean dropping every tradition. Not only did the bride wear white, her whole bridal party  ( pictured in portrait) all wore white. However, they weren't in conventional "matchy-matchy" mode. Each member of the party was in an outfit that best reflected their body and personality type-fitting in with the overall  look but not detracting from the bride. Despite the eclecticism, the result is harmonious.
Hire your art-house friends
The all female wedding photo portrait was an homage to the videography of Italian artist Vanessa Beecroft, resulting in a dramatic forward-stare scene. Mr. Walker's skill at capturing tones and subtle human emotion made this very stylized concept work as wedding portraiture. It is clear that the bride and groom didn't simply hire vendors and step out– the wedding dress, photos and, according to Vogue, entertainment, all appear to be a close collaboration- a work of art- between the bride and groom and their favorite creators and music makers.
The Bridal Bike
Solange, along with her soon to be husband Alan, rode up to the ceremony on bikes. She wore an all-white pantsuit by Stéphane Rolland with a dramatic cut-out in the front. The bikes were painted white and in place of a bouquet, a spray of flowers adorned the front of Solange's bike. It was a true ride or fly moment.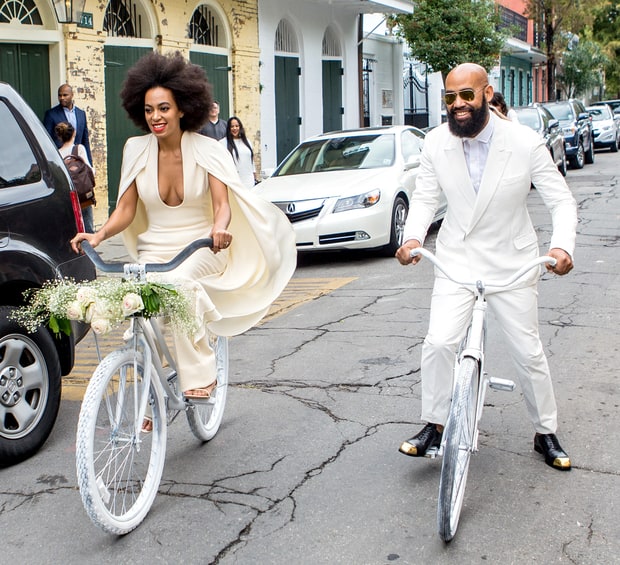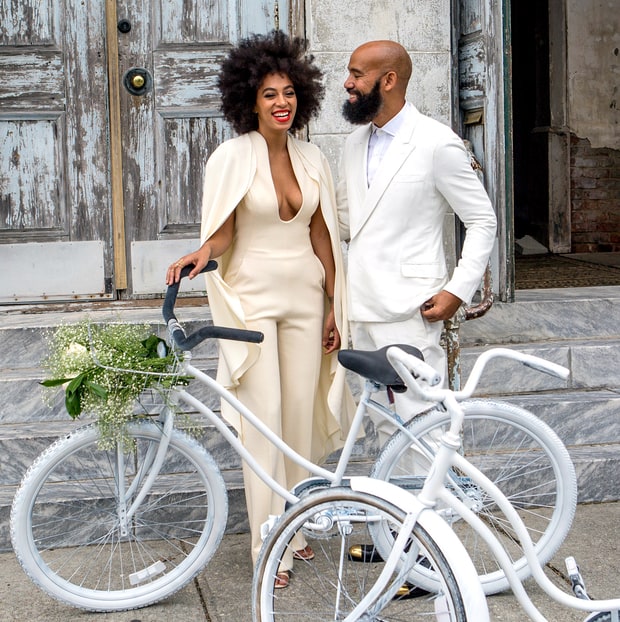 Credit: Josh Brasted/WireImage.com
Rather than break the internet, Solange prefers to break the rules-in her own unconventional, yet genuine way. So, brides: take note. Don't be afraid to do what you want and hire who you want for your wedding, to twist convention…magic can happen.
by Christine Terrisse and Alexis Wilson
By : admin