December 21, 2017
10 Ways To Plan The Perfect New Years Eve Wedding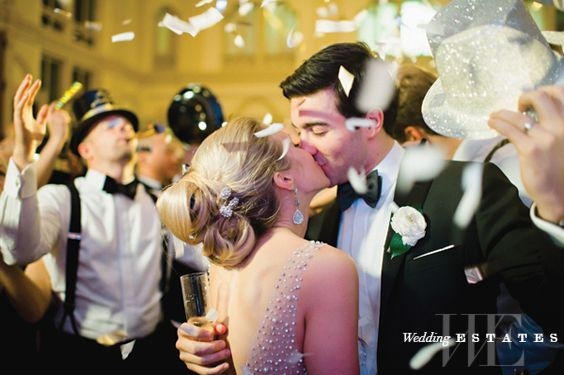 ---
Have you always imagined having a winter wedding? If you love the idea of a New Year's Eve wedding, you're going to love these simple tips on how to plan for yours. Why not throw a huge party for all of our loved ones, and get married at the same time? In the spirit of the countdown to midnight, these are our 10 tips to throwing the perfect New Year's Eve wedding.
1. New Year's Eve isn't just popular for weddings, but all events as well.
Vendors book up for other parties, so make sure you quickly secure your team. You are not just competing with other weddings but huge parties of all shapes and sizes. So, hire a fantastic wedding planner who will quickly secure all of our vendors.
2. New Year's Eve transportation challenge
Think of leaving your last years New Year's Eve, was it hard to find a cab, or avoid Uber surge pricing? The same will be true if it is your wedding night, so make sure that you plan transportation for your guests. We recommend a limo, limo buses, because designated drivers are definitely out of the question!
3. New Year's Eve is a holiday so there will be additional expenses.
 Typically labor is time and half on holidays, plus your wedding will likely go past midnight which could mean additional charges. Make sure you budget for additional labor costs so they don't sneak up on you.
4. Winter is not wedding season.
This can be good and bad, since so many weddings take place in warmer months your wedding will stand out and you'll have additional time to plan. However, flowers and other wedding elements can be out of season. So, get creative and think about forgoing flowers altogether, and have a candlelit reception to allocate your budget onto other aspects of our wedding.
5. Wear comfortable shoes.
If you are having a New Year's Eve wedding, then you probably love to dance. Order custom sneakers, so you can change into them and dance all night. Also, change into a shorter dress after midnight so you can really let loose.
 6. Make midnight memorable!
Plan it out with your band or DJ to ensure that the countdown is the highest point of the night. Try to get everyone on the dance floor, and propose a champagne toast! After the countdown everyone will be kissing at midnight! What could be more romantic?!
7. Never forget your anniversary!
After celebrating your wedding and ringing in the New Year with all your loved ones, take the rest of the night to enjoy & thank the guests that attended your special night. At the end of it all getting married on New Year's Eve is worth it despite some of the challenges.
8. New Year's Eve weather can be unpredictable.
We know this might seem like an obvious point, but just like summer weddings contend with being hot or rainy, winter weddings are cold and could be snowy (unless you are getting married in a warm weather winter destination).
9. New Year's Eve photo session.
When it comes to taking photos for your wedding, try to stay warm while you take a few photos outside. At the same time, have your photographers take plenty indoor of the moments, the venue, the people and of course the couple! You don't want to freeze yourself or your photographer!
10. Vendors go home for the holidays too.
Be mindful that your vendors are people and they also have families and holiday plans. Often times, many vendors will take off, or be extremely busy right before your wedding. Don't stress, take a deep breath, your vendors will get back to you, but to avoid pre-wedding panic speak with each vendor beforehand and get comfortable with their holiday plans incase you need to adjust your timeline.
By : Carabella