August 11, 2018
Bridal Beauty: A Head to Toe Prep Guide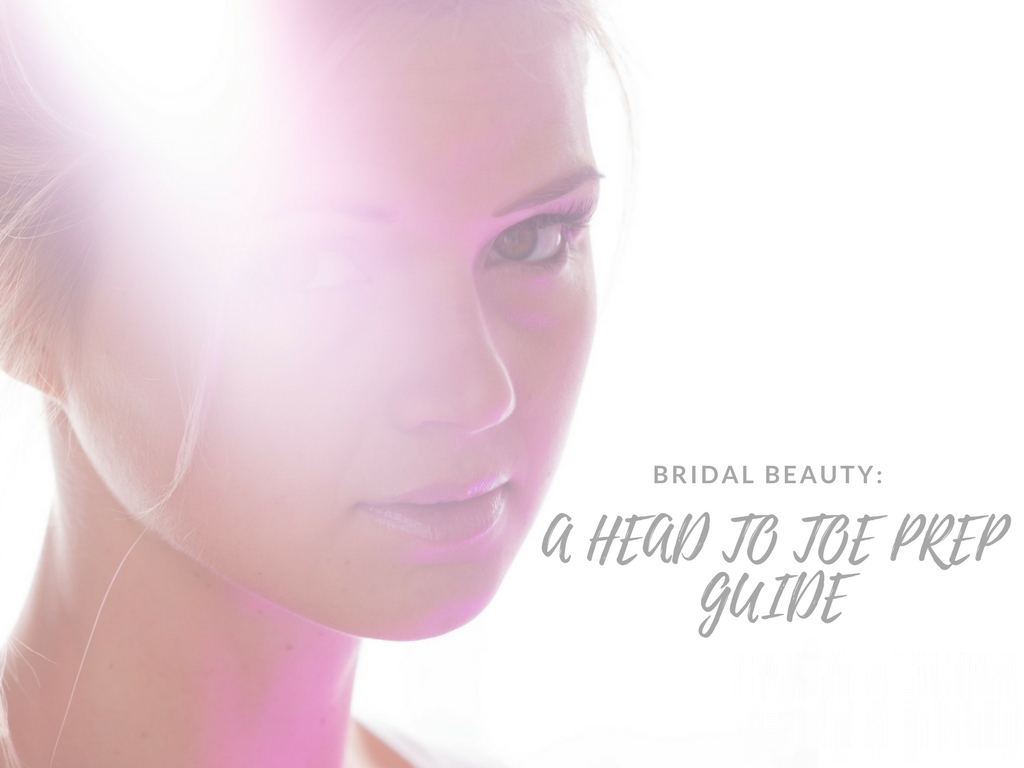 ---
Bridal Beauty: a Head to Toe Prep Guide
From booking the right venue and the caterer, to all the hassle about invitations, music, and menu choices, the bride's work is never done. With all the rushing around and making sure every detail is planned, styled, and perfect, it's easy to forget to dedicate enough time for our own preparation. We'll pick out the wedding dress and the hair stylist with glee, but if you're like most women and you've been dreaming about your wedding day, it's better to plan ahead and go a step further. To help you look as radiant as ever for the big day, we'd like to introduce you to a plan that will cover all the bases and make you feel absolutely gorgeous.
6-8 months before
If you're looking to shed some weight before the big day, the sooner the better is actually ideal. Rather than jumping into some insane diet a month or two before the wedding that ends up leaving you sick and exhausted, it's much better to do it the healthy way and create a steady, practical diet plan that you can stick to. We recommend that you talk to a nutritionist to help you lose weight in a healthy manner, and that you either sign up for a fitness class, or create a workout routine that you can do at home. Here's where you can find free fitness programs that can motivate you.
4 months
This is the time to decide on all the details for your final wedding look. Choose your hair, makeup, and accessories, and make sure they coordinate well with your dress. Leave room for manoeuvring in case something changes, and if you decide that you want to do your own wedding makeup, this would be the good time to start practicing it. Trust us, practice doing a full face of wedding makeup once a week and you'll get the look down to a T.
2 months
This is the time to see your dentist for a little teeth whitening, so you'd have a dazzling smile in all your pictures. We also recommend that you start really taking care of your face at this point. You'll want to pick out the skincare products for your skin type, and start a consistent routine that will target any specific issues and bring out that healthy, natural glow. Cleanse, tone, and moisturize twice a day, and use facial masks at least once a week to make sure your face is smooth, nourished, and silky soft.
2 weeks
Time to see your hair dresser and have them trim and dye your hair (unless you happen to dye your hair red, then do this one week before because red fades faster). We also recommend DIY oil packs and intense nourishment to make sure you have soft, luscious locks.
1 week
5-7 days before the wedding is the time to get a wax, have a mani and pedi done, and to do a spray tan if you want some of that bronze glow. Go to a skin clinic and have a professional do a gentle, nourishing facial to rejuvenate you.
3 days
Time for last moment fixes and nice, long massage. Now you need to let go of stress and allow yourself to actually think about the joy of your wedding day instead of just panicking about the details. After that? Scented candles, a bubbly bath, and a glass of wine.
1 day
Do a light workout routine with plenty of stretching and hydrate well though the day. Drink two cups of green tea as well, and make sure to get plenty of sleep. The big day is tomorrow, and that means there'll be a lot to do, and probably a lot of rushing. You want to make sure you're well-rested and mentally prepared for it all.
And there you have it, a complete head to toe makeover that's tailored to not only make you look good, but soothe you, relax you, and really make you feel like a million bucks. Indulge in some self-care, eat well and exercise, and you'll be the most beautiful bride for your wedding day.
By : Carabella