June 13, 2018
The Ultimate Beach Wedding Guide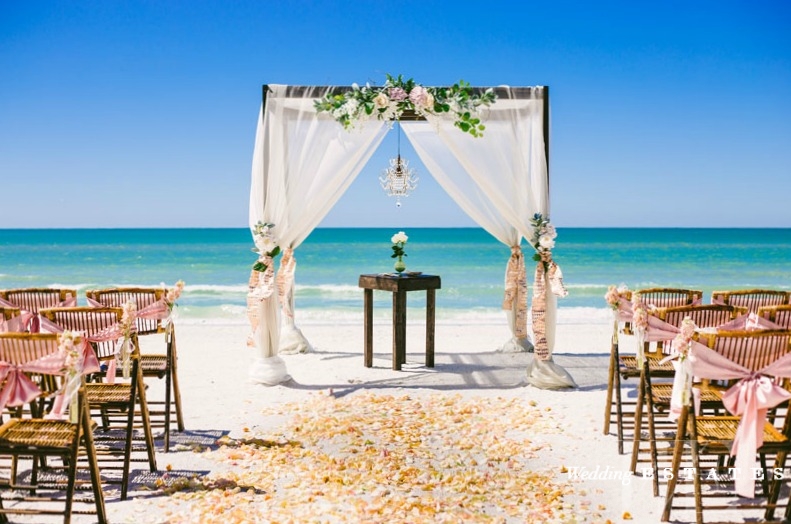 ---
When we plan a beach wedding, it's easy to plan the design of the wedding. But what many people forget is the practical details of the wedding. Here is the ultimate practical beach wedding guide.
Make sure your guests are comfortable
Plan your wedding after the season and weather. Bring umbrellas and cool drinks for hot weather, or inexpensive blankets for cooler weather. If you plan on having a sunset wedding, make sure to set up lighting to ensure the safety of you guests. And last, don't forget to mention if parts or the full wedding will take place on the beach so guests can dress themselves suitably.
Have a backup plan
Mother nature will not always bring magical sunsets and sunshine. Plan on having a tent as shelter for the ceremony if you have a full beach wedding. Or if your reception has an indoor venue, plan on having the reception indoor as well.
Don't be blown away
We all know how windy the beaches can be, so plan on bringing a few windbreaks for everyone's comfort. And brides, don't forget about informing your hairstylist that you will be married on the beach!
Amplifications          
Don't forget that it will be slightly more difficult to hear the "I Do" on the beach. If more than 20 people will attend your wedding, we recommend hiring a PA system.
Know your beach
You will probably make at least one visit to your wedding beach. But have you planned on the high tide? A tide table is easy to get from the local city.
Service Providers
Have a service meeting before the wedding with all vendors. That will ensure every service providers plan on parking, setup, and other conveniences.
Permits and ordinances
Be sure to go over all laws for your beach. Contact your local government to acquire your permit, and make sure you do it on time.
Restrooms
If there are no restrooms close by, consider renting a few portable toilets.
Privacy
If you want a private wedding, make sure you have your wedding on a private beach.
Other considerations
Do you have to bring a generator? Do you have enough fresh drinking water? Do you have running water for catering, or do they have to carry the dishes to the truck? Do you have enough garbage bins?
Last, make all make sure we levee the beach in a cleaner condition than before.
By : Carabella