May 7, 2018
5 Unexpected Wedding Dress Ideas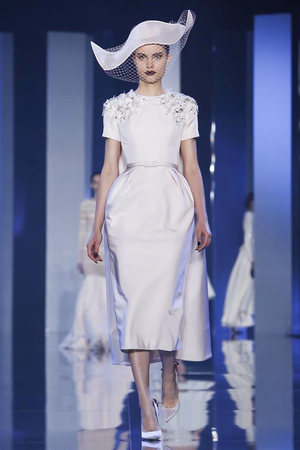 ---
The modern bride is unlimited by choice and while traditions remain important,  the bride of today is  free to choose which traditions to keep and which to toss out.
Although it feels like the wedding dress has been around forever, it is a relatively new phenomenon, first credited to Queen Victoria, who wore a white dress when she married Prince Albert in 1840. At the time, it was not common for a bride to wear a white dress.   With all due respect to Billy Idol, it was the trendsetting British queen who started the "white wedding" craze.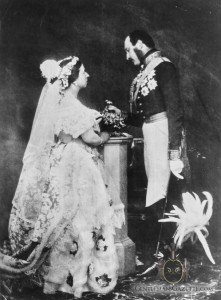 Queen Victoria with the dress that started it all.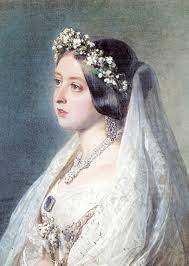 Portrait of Queen Victoria on her wedding day. Photo courtesy of Victoriana Magazine
While we'll never be totally over the white wedding dress, we have scanned the runways of recent years for wedding dress inspiration that's a bit more unconventional. Most of them aren't wedding dresses, per se, but they all show the "wow factor"  every bride is looking for. And, because we're called Wedding Estates, we've selected  venues in our private collection which speak to the personality of each dress.
So, here's to sparking your imagination, going back to the "tradition" of colored wedding dresses and discovering some amazing new Los Angeles based venues.
1. Blue-Monique Lhuillier, "Floressa"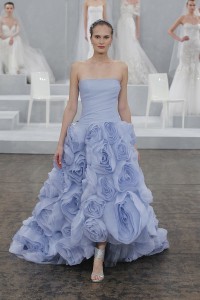 Monique Lhuillier Floressa Spring/Summer 2015 Photo courtesy of moniquelhuillier.com

SkyStudio, a Wedding Estates exclusive Photo courtesy of Image Locations
In a sky, almost lavender blue,  this dress is for the bride who is a minimalist but loves maximum impact. In silk gauze, with a drop-waist bodice and A-line silhouette, the floral embroidered skirt stuns while the un-fussy elegant bodice restrains the look. This bold minimalism is paired best with our exclusive SkyStudio, high above the Los Angeles skyline. A dramatic view coupled with stark lines is a perfect match for the Floressa. No veil needed!
2. Red-Valentino Spring/Summer 2014

Valentino Spring/Summer 2014 Photo courtesy of Elle UK

The perfect pairing for the lacy, deep burgundy Valentino is our exclusive Romantic downtown loft.
Less of a red, more  a deep burgundy wine with hints of emerald green, this lacy full length gown was worn by top model Vanessa Axente  in the sumptuous Spring/Summer 2014 Valentino collection. This look begs for a custom tiara and delicate drop earrings. Romantic braiding and loose long curls would compliment this look well.  This look begs for a seducing locaton and we think our exclusive Loft 2 has all the romance this dress calls for.
3. Green -Elie Saab Spring 2012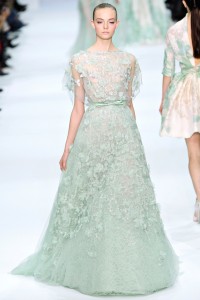 Elie Saab Spring 2012 Seafoam green and delicate embroidery conjures images of the sea. Photo courtesy of style.com

An infinity pool expands onto a breathtaking view of our Beverly Hills Tuscan estate, the meditative calm of water, the romance of an Italian villa combine.
In case you haven't realized, we are a little obsessed with embroidery and lace, which is why we threw it back to the Elie Saab Spring 2012 collection where the ladylike designer got this particular shade of seafoam green just right. We think a dress this color conjures up dreams of the sea and Tuscany. The style of one of our Beverly Hills Tuscan estates is a fitting backdrop for this by-the-sea bride.
4. Grey-Custom Gareth Pugh

The romantic opulence of our "Pasadena Princess" lends itself well to Victorian inspired looks.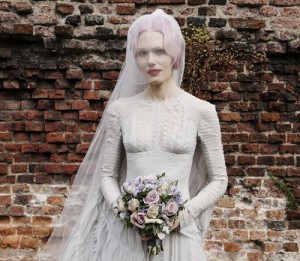 Stylist Katie Shillingford in dove grey Gareth Pugh. Veil by Stephen Jones, bouquet by McQueens. Photo by Ben Toms, via Another Mag.
When British stylist Katie Shillingford was married in 2011, she turned to her friend, designer and fellow Brit Gareth Pugh. Pugh was able to nail unconventional mixed with all the dreaminess of the Victorian era  and elements from the 1930s. Paired with her pink hair, Ms. Shillingford created an unforgettable bridal look. This shade of dove grey is perfect for complementing porcelain skin tones. Our Pasadena Princess, an exclusive estate steeped in California history and resplendent with a rose garden is the choice for this dress.
 5. Pink-Ralph Russo Fall 2014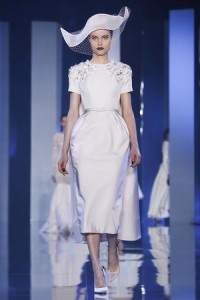 Ralph Russo, Haute Couture, Fall Winter, 2014, Fashion Show in Paris. Photo courtesy of nowfashion.com

Our Exclusive Retro 2, gives is just the right backdrop for a mid-century inspired wedding.
At first glance, this neo-retro Ralph Russo Fall 2014 dress looks white, but in fact it's the palest shade of pink. Paired with an unconventional chapeau and veil, this look is for the avant-garde bride who wants a Hitchcock, early 1960's look without sacrificing cutting-edge style. The clean, modernist lines of our exclusive Retro 2, is the perfect background for this fashion-forward bride.
There is something enchanting about the white wedding dress, which  captivated Victorian brides…becoming a craze, then a tradition. Sometimes, the best way to honor traditions are knowing why you are breaking them in the first place. After all, it was Victoria's daring individuality which led her to come up with the white wedding dress in the first place.
By : Carabella