January 9, 2018
Ways to Glam Up Your Wedding Day in 2018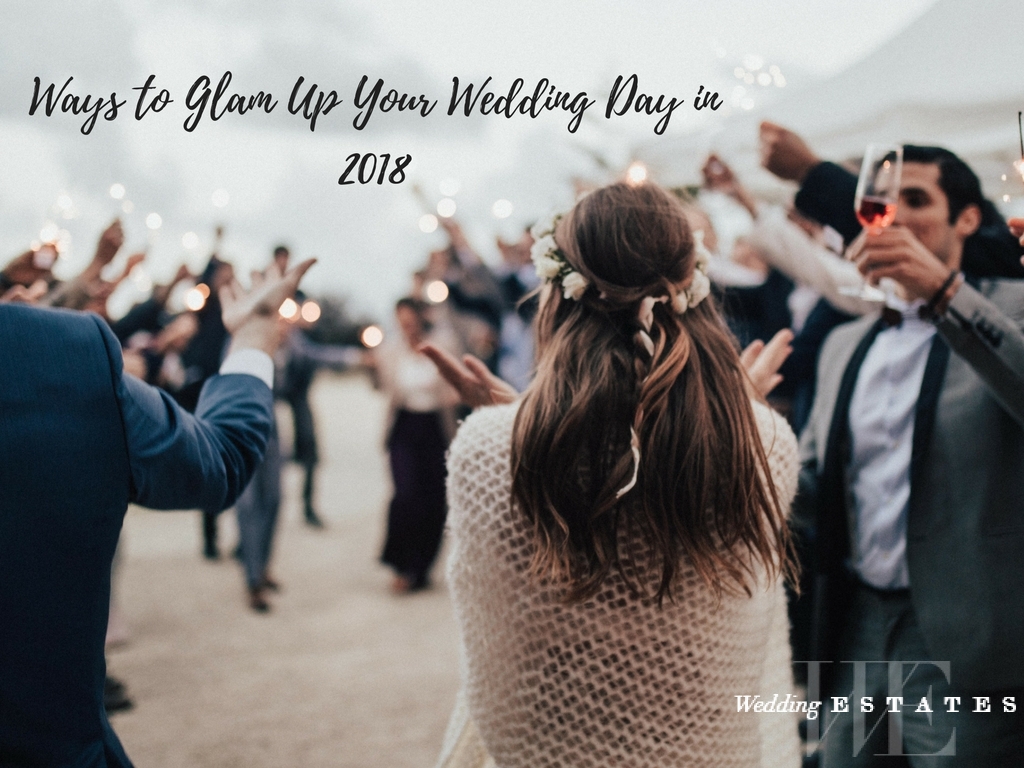 ---
As it is one of the most important days in your life, you probably want your wedding to be unique and memorable. There are many ways in which you can achieve that, from unusual décor elements to the choice of food – but such a variety of choices only makes it harder to decide on the one that you like most. So, if you could use a bit of inspiration, here are some trends around the world that are expected to be popular in 2018.
The USA
More intimate weddings
Weddings in the USA seem to be getting smaller as most couples are opting for more intimate weddings without all those relatives they haven't seen in ages. Plus, by choosing to share one of the most important days in their life with only the closest friends and family members, they are able to save some money as well, which will surely come in handy sooner or later.
Navy is the new black
When it comes to the color palette, navy blue seems to be taking over as the formal choice instead of black. This can be seen in, for instance, the choice of bridesmaid dresses and the invitations – instead of classic white and black, couples are now opting for deep midnight blue together with silver or chrome that has replaced the usual gold.
Hanging flowers
Floral displays are becoming increasingly popular, so 2018 will be all about dramatic and creative hanging floral decorations. It makes the space appear more dynamic, and it leaves more room on the table for the food.
Australia
Flowers
One thing that is unlikely to change in 2018 is the popularity of flowers at weddings. They add a pop of color to usually white weddings, they smell amazing, and they can enhance any atmosphere with their beauty. It's hard to find gorgeous wedding photos without any stunning flowers on them. If you're looking for inspiration, check out some examples from Sydney wedding photographer to see how to best introduce different decorative elements – including flowers – into your wedding.
Candy
Everybody loves candy, and delicious dessert buffets are becoming quite popular in the Land Down Under. So, instead of offering your guests just one delicious cake, hire a candy cart with different sweets like lollipops, muffins, donuts, macaroons, etc. Both adults and kids will love it, and it can really make your wedding the talk of the town.
Non-traditional food
Couples are becoming more creative with their wedding menus by choosing food that you wouldn't expect to see at weddings. Thus, if you want to serve something unusual or something that you both like but isn't exactly considered "wedding-appropriate", by all means, go for it.
Europe
Industrial look
If you want to add some character to your wedding, consider going for the industrial look. It is becoming a trend in Europe, since it is a perfect alternative to usually white and simple wedding themes. The best thing about it is that it leaves room for experimentation and personal touches.
Foliage décor
When it comes to the décor, foliage-only has become very popular. You can see, for example, leaves in jars as table décor elements, which is a perfect way to add some color to a more subtle color palette. Plus, the jars come in different sizes, so you can be more creative with the way you use them.
Natural appearance
In terms of bridal makeup, most brides go for the natural look with a bright red lipstick that truly makes them glow. A similar idea applies to the hairstyles as well – the new trend is all about natural, hair-down styles, or if you want to show off your backless dress, you can go for a stylish top-knot.
If you're planning your wedding in 2018 and you want it to be unusual and glamorous, there are many fabulous trends from all around the world. Pay attention to different décor styles, color palettes, food choices, as well as your own appearance, and you should have no problem incorporating the trends that suit your wishes into your wedding.
By : Carabella